2018 STAFF CONFERENCE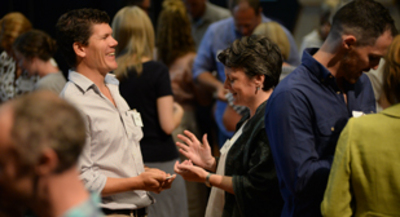 The school year began for our teaching staff with a two-day Staff Conference held at our Corio Campus between 24-25 January 2018. Creative Education was the focus for this year's conference; it also marked one year since the first creative education modules were introduced at the 2017 conference.

"The School has identified creativity as a key tool students will need in the future," Vice Principal, Charlie Scudamore, said. "Indeed, our Purpose document's new five-year challenge is 'to develop creative thinking and learning to challenge the complex opportunities of a changing world'. This year's Staff Conference is an important milestone, building upon three years of work on Creative Education at Geelong Grammar School."
The Conference featured group discussions, a video presentation on Creativity and 'TeachMeet' sessions, ranging from "How to Engage 130 Teens in STEM" to "Creating a Tree House". Professor Beverley Oliver, Deputy Vice-Chancellor (Education) at Deakin University, was this year's guest speaker, while Wednesday's programme also featured a session titled "Collaborative Problem Solving", which was a nod to a PISA report by the same name which identified the need to foster social social skills more systematically across school curriculum.
The 'Give it a Go' portion of the Conference has become a popular annual element, with polo, stand-up paddle boarding, flag football and Mexican cooking among the list of options on offer. These sessions provide our teaching staff with an opportunity to get to know one another in a less formal setting, while also taking them out of their comfort zones.
As Principal Stephen Meek addressed the entire teaching staff on Thursday morning for the final time before Rebecca Cody begins in the role of Principal in Term 2, he spoke on a range of topics including the challenges and opportunities facing the School, whilst also praising the overall vibe of the conference. "The way you come together, celebrate together and enjoy each other's company is indicative of the pleasure that you have in working at the School," Stephen said.